It's the start of a new month! A new month means expecting new things, however, in the real world, the issues are a bit of a mix-up. New issues such as Shigellosis outbreak along with Hurricane Matthew have entered, and old issues such as Syria and the Colombian ceasefire have reappeared yet again. Haven't heard of any of these events? Don't fret! It's our job here to get you up to speed on this week's 5 Things to Know.
1) Hurricane Matthew
One of the biggest talks of this week has been the appearance of Hurricane Matthew, pounding Haiti, damaging Cuba, and most possibly will hit Florida as a Category 4 hurricane. The hurricane hit the impoverished Southern Haiti on Monday and Tuesday at 130 mph, flattening houses, drenching the lands, and taking the lives of around 300 people. After its last lashes on Haiti, it entered Cuba, destroying more than 30 households. As of now, there were no reports on the number of deaths. The hurricane is now making its way towards the coast of Florida. Governors in four Southern states have taken as much action as they can to prepare for the outbreak. "I cannot emphasize enough that everyone in our state must prepare now for a direct hit," Florida Gov. Rick Scott says
2) Flint Shigellosis Outbreak
Shigellosis is an infectious bacterial disease that causes bloody diarrhoea and fever, triggered by the Shigella bacteria. The disease typically spreads easily when people don't wash their hands. Flint, Michigan is at risk of experiencing this outbreak. Water problems have plagued the county for almost two years. Last year civilians feared to touch their water supply after they experienced rashes and hair loss due to high amounts of lead found in their water supply. Until today, people dread to touch their water system and bathe less and wash their hands less in an attempt to pay less for filtered and bottled water; they instead use baby wipes to disinfect their hands, which were proven not to be as effective as handwashing. Shigellosis is highly contagious and there are around 500,000 cases of it in the United States every year, the highest number coming from Flint.
3) Syria
The U.S and Russia have stopped pointing fingers at each other for whoever could have caused the ceasefire. "…the United States announced our decision to suspend the bilateral discussions with Russia on the re-institution of the cessation of the hostilities agreement. A decision that, believe me, does not come lightly," Secretary of State John Kerry stated. The U.S, however, has stated that this does not mean that they are giving up on Syria, and will resume diplomatic resolutions to help tone down the violence in Syria. Meanwhile, in Aleppo, chaos is continuing to resume, with another 22 dead due to a suicide bomb.
Find out more about how the Syrian civil war started, and why we should care
4) World's Smallest Machines, Autophagy, Exotic States of Matter. 
Sir Fraser Stoddart, from Scotland, Bernard Feringa, from the Netherlands, and Jean-Pierre Sauvage, from France, were awarded the Nobel Prize in Chemistry for making the world's smallest machines. The trio attempted to create synthetic molecules that worked like cells, regulating temperatures and repairing organ damage, and found a way to convert chemical energy into motion. It could very well pave the way to having medical equipment that can heal organs without human intervention and have the ability to self-repair organisms.
Yoshinori Ohsumi, a Japanese biologist, was awarded the Nobel Prize in Medicine for his discovery of the mechanisms of autophagy. Autophagy is how cells break down and recycle their own components. It is a fundamental process in the cell that scientists believe can be used to fight against cancer and dementia.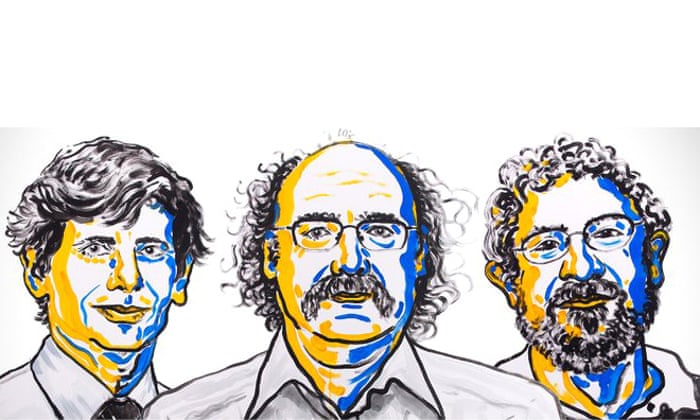 David Thouless, Duncan Haldane and Michael Kosterlitz win the Nobel Prize in Physics for their work on exotic states of matter. This work could very well pave the way for quantum computers and other revolutionary technologies. Their theoretical work on "topological phase transitions and topological phases of matter" have changed the way scientists think about different materials.
5) Colombian Ceasefire
Juan Manuel Santos, president of Colombia, announced that peace treaty with Marxist rebel group FARC will end by the end of this month. After a vote held on Sunday, Colombians narrowly reject the referendum on the peace deal with FARC. Salud Hernandez, a correspondent for El Mundo newspaper and has experienced the rash actions of the rebel groups says that the peace treaty is unjust and that the Colombian people will not let them go so easily. "The tragedies of the war, the tears of the people, the missing, that the people, the families live. It is like they are the walking dead," she said of a "stupid" war that has "planted much more tragedy than misery." The Colombian government is now going to have to think of a "Plan B" of achieving peace and end a war that has lasted for almost 52 years.