Old events are making their way back to the headlines and Climate Change is becoming more relevant than ever. It is no doubt that this week has been a busy one, for both the world and for us (whose Managebacs are most likely painted red). If you haven't been caught up on the news, then there's no need to worry! Better late than never, we present to you this week's 5 Things to Know.
1) Aleppo
With the focus of the conflict on Mosul and Raqqa for the past three weeks, there was little from Aleppo. However, this week the airplanes have resumed zooming over the skies and bombs are now raining upon the city without giving it time to recover. 45 people were killed and many more were injured by the airstrikes that raided in on Thursday. The side that was most affected was the east, threatened after a text message that told them to flee or be bombed. "Planes are more than birds, and bombs are more than rain," one resident said of the Syrian air force's renewed blitz.
2) Colombia FARC Treaty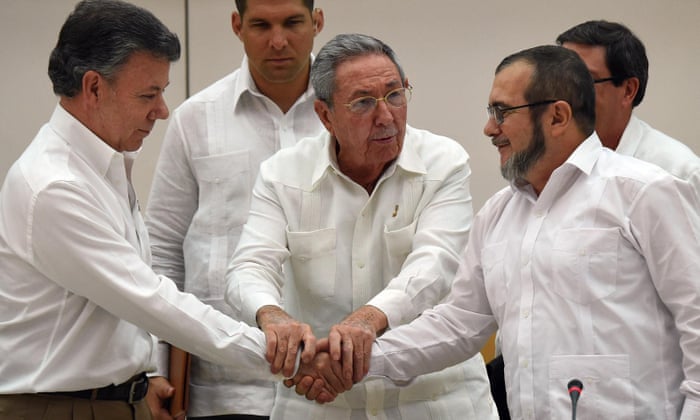 Earlier this year, a peace treaty was attempted to be made by the Colombian government with the FARC rebel group to end a war that lasted almost 50 years. However, the peace treaty was unexpectedly rejected by the citizens, who say that it was unjust to let the rebel groups off without any form of punishment. Last Sunday, the government and the rebel group have created a revised peace treaty that includes reparations for the victims that will come from FARC's assets. Colombian president Juan Manuel Santos says that the deal will build "broader, deeper peace".
3) 2016 to be the hottest year
If you think that 2016 has been a little bit hotter than usual, then you're probably not imagining things. The World Meteorological Organization stated that 2016 will "most likely be the hottest year on record". This becomes increasingly relevant with the US, as the president believes that climate change is just a "hoax". With this in hand, political debates over this issue will be unlikely to cool down anytime soon. The report says that if 2016 does indeed break the record,  16 out of 17 hottest years on record will have taken place in this century.
4) New Zealand Earthquake
An earthquake with a magnitude of 7.8 hit New Zealand after midnight on Monday, killing 2 people. Scientists say that it could be one of the most complex events recorded. The tremor of the earthquake, in fact, came from two separate quakes that lasted for two minutes each and happened as a result of 6 ruptured fault lines. The earthquake was felt in over 7000 square kilometers of land, which resulted into a tsunami warning and the evacuation of coastal areas. The waves were said to have gone over 4.1 meters above sea level.
5) Zika Virus
The World Health Organization recently reported that Zika will no longer be reported as an international medical emergency. In almost 30 countries the virus has been linked to birth defects. The virus is mostly spread by mosquitos, but can also be transmitted sexually. However, despite the explosive pandemic, it was reported that few people die from Zika, and only 1 in 5 infected people develop symptoms (which include fever, a rash, and joint pain). Nonetheless, Dr David Heymann of the WHO Committee says that it still imposed a "significant and enduring" threat, and WHO will continue to work on a longer-term solution against the infection.