Here's a summary of this week's news events. In the midst of schoolwork, activities and projects, be sure to always be updated about the world around you. 🙂
Trump has urged Spain to 'build a wall'
Brexit will be 'worse for the UK than for EU'
Japan's robots may have had historic asteroid landing
Father rides late daughter's bicycle to raise awareness
Mystery of the earliest form of animal life solved
Trump has urged Spain to 'build a wall'
President Donald Trump has suggested Spain build a wall across the Sahara desert to reduce Europe's migrant crisis. Spain has authority on two small areas, namely Ceuta and Melilla, on the north African coast. Due to various conflicts and persecutions in Africa, these enclaves are being inhabited by African migrants, in hope to escape to Europe. As of January, it has been reported that 'at least 35,000 undocumented migrants have arrived in Spain, the highest number received by any Mediterranean EU country.' Building a US border wall with Mexico was one of Trump's most popular campaigning idea and he has specified, The border with the Sahara cannot be bigger than our border with Mexico."
Brexit will be 'worse for the UK than for EU'
Jean-Claude Trichet, former head of the European Central Bank, has established the idea that Brexit will have a huge economic impact on Britain, rather than the European Union. Statistics show that the EU's economy is worth approximately $13tn, in contrast to the UK's $2tn. He mentioned, "If I take the EU as a whole and compare the GDP of the EU to the GDP of the UK, you see there's a small portion which is the UK." Two main reasons were brought forth as this discussion carried on: 'New World' and 'Rising Debt'.
'New World'
Although people who support Brexit argue that new trade links can be made through fast-growing markets, according to 2016 statistics, the EU is the UK's biggest trading partner, accounting for nearly half of all its export. 
'Rising Debt'
Mr Trichet compares the EU to Asian economies, suggesting that their growth may be detrimental to the EU without Britain support. He is concerned about 'rising public and private debt levels around the world.'
Japan's robots may have had a historic asteroid landing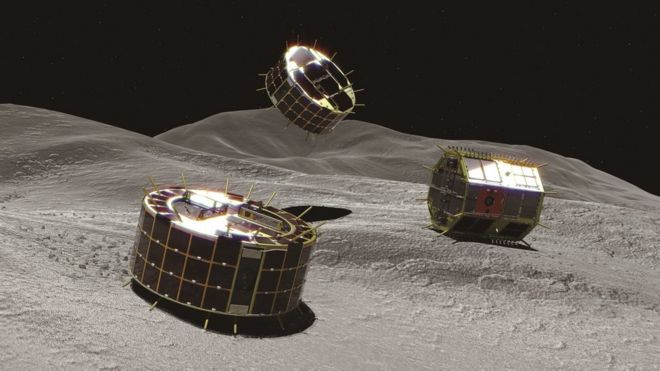 Japan's popular space agency 'JAXA' may successfully witness the landing of two robots, named Rover 1A and Rover 1B on an asteroid, making history. These robots have been reported to be sent to record temperatures and capture photographs of the asteroid's surface. This proof will be sent to the spaceship, which will then pass on the data to the agency on Earth. The space agency hopes it will be successful as this would be the first time spacecraft has placed robot rovers on an asteroid. JAXA aims to discover more about the formation and origins of Earth through the evidence provided by the robots. Furthermore, the agency intends to send an explosive device which aims to destroy part of the asteroid's surface and collect samples of rocks that have not been affected by radiation and/or matter in space. These samples will be sent to Earth for further investigation and research by 2020.
Father rides late daughter's bicycle to raise awareness
A man from Cornwall, England has cycled for 200 miles (321km) to raise awareness for brain tumor, the condition which caused his seven-year-old daughter's death in 2015. Part of his goal was to raise awareness for the lack of funding spent on the research of cancer. Studies show that brain tumor is the 'biggest cancer killer of children and adults under 40.' 
Mystery of the earliest form of animal life (Ediacaran biota) solved
Researchers have found fossils of Dickensonia, a creature now known as the first complex multi-cellular organism to have appeared on Earth.  The molecules of cholesterol contained in it have proved that creature lived 558 million years ago. Jochen Brooks, an associate professor at the Australian National University (ANU), has mentioned, "Scientists have been fighting for more than 75 years over what Dickinsonia and other bizarre fossils of the Ediacaran Biota were," and that Dickinsonia is "the oldest known animal fossil, solving a decades-old mystery that has been the Holy Grail of palaeontology." 
Have a wonderful weekend! 🙂