As usual, the world had so much to offer us this week. It seemed that the main highlight of the week, as you all may now know, was Donald Trump becoming the president of the United States! However, despite this huge uproar it is still best to know what else is going on in the world. And that's what we here at 5 Things to Know are here to do. We'll get you up to speed in 5 minutes.
1) Raqqa
Overlapping the fight over Mosul, the Syrian troops supported by the United States plan to take over the city of Raqqa in Syria, ISIS's de facto capital. The forces will be joined together by the Syrian Democratic Forces (SDF) who have Arab, Kurdish, and Turkmen militia groups. "The effort to isolate, and ultimately liberate, Raqqa marks the next step in our coalition campaign plan. As in Mosul, the fight will not be easy and there is hard work ahead, but it is necessary to end the fiction of ISIL's caliphate and disrupt the group's ability to carry out terror attacks against the United States, our allies and our partners. The international coalition will continue to do what we can to enable local forces in both Iraq and Syria to deliver ISIL the lasting defeat it deserves," says US Defense Secretary Ash Carter using a different name for ISIS. The fight over both Raqqa and Mosul hopes to liberate these states from ISIS and to discourage the movement to not pull terror attacks against the US and other countries.
2) Kashmir
Over the past few months, there has been rising tension between the two nuclear states of India and Pakistan; these headlines, however, haven't made it anywhere near the news. The fighting started when Indian troops went to Kashmir and shot young militant rebel leader Burhan Wani. This caused a small rebellion against the Indians in Kashmir, who for years have been trying to claim their territory from Pakistan. In this breakout, around 50 people were killed. Since then, the tension between the two only got stronger. In 4 months, the uprising has injured 17,000 people and seen possibly the world's largest blinding phenomena when Indian troops shot metal pellets towards protestors, shooting 500 people and blinding many.
3) Leonard Cohen
Canadian singer and songwriter Leonard Cohen has passed away today at the age of 82. He was artist well known for his poetic and lyrical songs, including the much-covered song of "Hallelujah". Many of his fans through social media communicated their sorrow by expressing their condolences and quoting his songs and poems. "Unmatched in his creativity, insight and crippling candour, Leonard Cohen was a true visionary whose voice will be sorely missed," says Cohen's manager Robert Kory, as he shares his sorrow with Cohen's many fans around the world.
4) US Elections
Your family has heard about it, your friends have heard about it, and you should know about it too! On the 9th of November, Donald Trump was elected as the new president of the United States of America. There have been some words of congratulations, one coming from Russia's leader Putin, however, there were some negative responses as well. Thousands took to the streets in about 25 cities, displaying their message "Not my president. Not today". Obama meets with Trump and Hillary delivers her concession speech, inspiring little girls by saying "Never doubt that you are valuable and powerful and deserving of every chance and opportunity in the world to pursue and to achieve your own dreams." At least there was some positive light spared upon this election, now all that's left to do is wait and see what Trump's America might look like.
5) Global Warming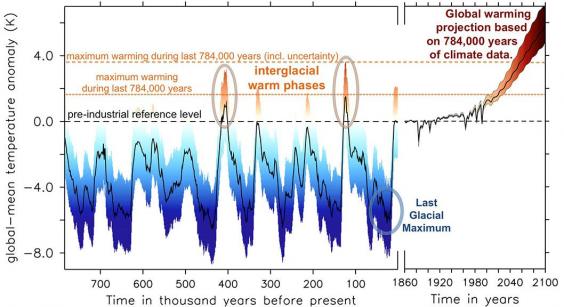 Scientists say that it is possibly, "game over" for our planet if we continue our use of fossil fuels and warm the Earth. In a paper from the journal named Science Advancements, it states that the range of increase of global mean temperature is 4.78C to 7.36C by 2100, which is a contrast with a stunning increase from the IPCC (International Panel on Climate Change) calculations, being 2.6 and 4.8. The journal has made calculations for the future based on 784,000 years of climate data and says that the warming could increase drastically as climate is more sensitive to greenhouse gases in warmer temperatures. If the world does not take a stance against Climate Change, it could trigger a kind of disaster that has turned Venus from a habitable planet, into a hot, volcanic hell.